Today I want to talk about connectivity between locations. Locations can be data centers, cloud providers, remote branch offices, and even remote teleworkers. The more locations your business has, the more complex your network gets. Enterprises have been solving site-to-site connectivity with many solutions over the years but the most popular today is SD-WAN. Let's talk about how SD-WAN solves problems, and let's take a more in-depth look at Express Data Solutions SD-WAN offerings.
At the most basic level, what critical problems does SD-WAN solve for us? The number one value SD-WAN provides is a reduction in network administration complexity and site to site security. While delivering these essential items, it can also monitor your connections between sites and intelligently redirect traffic between those connections based on Bandwidth, Latency, and Jitter. This makes the SD-WAN solution reduce costs by leveraging lower end connectivity and keeps performance between sites satisfactory to your end-users.
We learned from a most basic level what SD-WAN does, and you most likely already knew this before you started reading this blog, but the real question is, what does SD-WAN not do that can make your WAN perform even better then what you have today? Before giving away all of our secrets, let's roll back the clock on how SD-WAN solutions created a cost reduction while installing new technology. Remove your expensive private MPLS connections and install lower-cost Cable and DSL services and let SD-WAN do all the work for you. This is great; it reduces cost, most likely increases your bandwidth between sites as private connections are more expensive, but what did we lose in the process we need?
The internet is not created equally between providers; there are times when we have seen peering points between SD-WAN solutions requiring extra hops between providers because of how ISPs interconnect themselves. This increases latency and lowers our bandwidth potential, and SD-WAN cannot fix this problem. It can help mask the pain if another provider is faster at a site, but they have two connections and leverage only one the bulk of the time. This is where Express Data Solutions SD-WAN comes in, and I'll address how we solve this underlay problem.
Express Data Solution provides a managed SD-WAN solution that not only provides you with all the expected benefits you'd expect from any SD-WAN solution, but we take it a few steps further. We fully manage the solution and provide all the redundancy and integration into your existing solution, but managed services are not new, so why use Express Data Solution? We peer directly with the ISPs that you use for your broadband providers at the edge. This reduces latency, overhead and provides a more stable connection at the carrier level. Express Data Solutions integrates private MPLS and Public ISPs to create a single fabric for those locations that need faster connections. Express Data Solutions does all of this, and we still come in less expensive than our competition!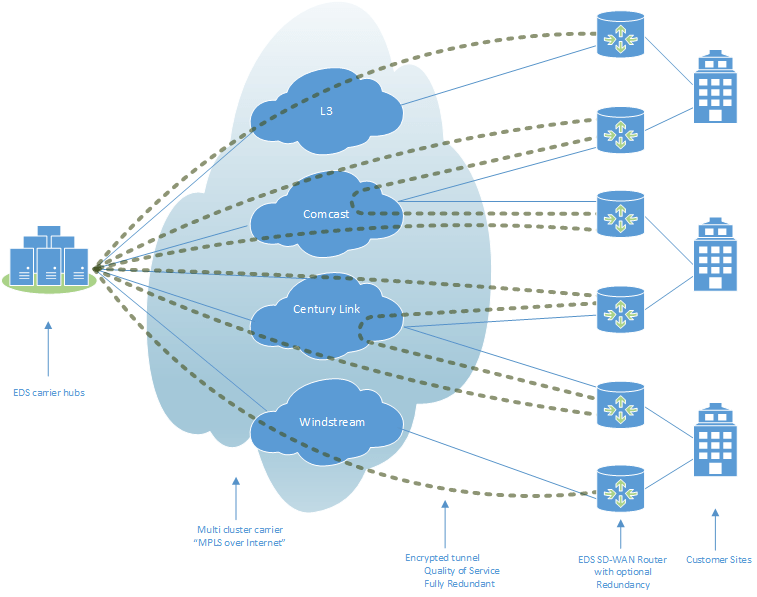 If you're interested in taking your SD-WAN to the next level or want to reduce your WAN costs while increasing performance, let Express Data Solutions help. We offer a free WAN assessment reviewing your existing solution and will provide you short term and long term recommendations.